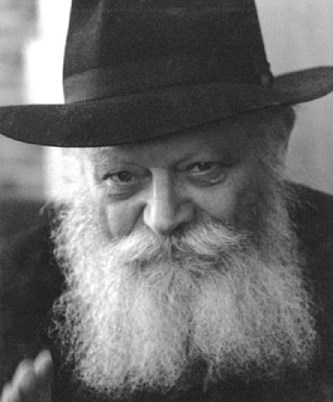 Dear saints of Jesus,
No, the above picture is not an image of God. Though I am certain many of you may think so, you have been fooled, bemused and beguiled.
Most of you have no clue who this dead anti-Christ Talmudic Babylonian ribeye is.
The above picture image is Ribeye ("call no man rabbi")  Menachem Mendel Schneerson, the very dead, dead, dead anti-Christ so called spiritual leader of the jews religion of Tamudic Hasidim, the Chabad Lubavitch, whose goal unto his god is to eradicate any thing of and for Jesus the Christ the LORD God Almighty from the memory of mankind.
I have spent the last 18 years warning mankind of this plan under Mystery Babylon, the Mother Harlot of the earth, scheme, or like I prefer to call Ha Shem's Sham of Shame.
The final separation of the sheep of Jesus and the goats of Lucifer is well underway, yet the world is oblivious, apathetic and complacent, willingly ignorant, simply uncaring.
In Christ Jesus NAME, do you care what is to become of your soul?
Beware of the Alternate Far Right, for they SERVE Lucifer in their misdirection and distractions, these and their Alternative websites only serve that Old Dragon and Satan.
See Here:
http://www.samliquidation.com/chabadsatan.htm
http://www.samliquidation.com/noahide_news.htm
The facts are well documented, the WORD of GOD the Prophecy is written and will not return to the LORD GOD Void.
The Judeo churchinsanity, its hirelings of the cemeteries full of dead mens bones, have long since fled from the flock of Christ Jesus, leaving the Lord's sheep to wander aimlessly with no direction, for neither do they pay heed to the WORD of GOD which is written.
Gag Reflex test for the day
https://www.breakingisraelnews.com/81889/cufi-delegates-storm-washington-push-pro-israel-legislation-strengthen-trump-ties/
http://www.wnd.com/2017/01/the-u-n-vs-israels-sanhedrin/
We are unable to post your comment because you have been banned by WND.Find out more.
By Lucifer's Hegelian Dialectics the nations have been delivered right into the arms of Satan's Shema GOG.
https://www.congress.gov/bill/102nd-congress/house-joint-resolution/104/text
Here:  
https://noahidenews.com/2017/01/05/trump-and-the-publicans-to-bow-in-obeisance-to-the-sanhedrin-of-satans-script-of-shems-shame/
Here: 
https://noahidenews.com/2017/01/01/mystery-babylon-the-mother-harlot-makes-her-alliance-and-the-world-is-drunken-with-her-cup-of-fornication/
Here: 
https://noahidenews.com/2016/12/14/satans-hegelian-dialectic-shem-sham/
Here: 
https://noahidenews.com/2016/03/21/the-great-hegelian-savior-of-maraka/
Here: 
https://noahidenews.com/2016/12/28/how-the-sanhedrin-manipulated-the-un-resolution-for-their-global-anti-christ-noahide-scheme/
Maraka,(pun on "W"'s pronunciation of America)  you have been bamboozled. These anti-Christ Vipers of the Pits of Hell, have led you right from the frying pan into the fire, which is to come upon you.
Make no mistake that this country was given up to "others besides those" (Daniel) and not to their posterity, but to Satan and his vermin and their proselytes.
Now Trump has surrounded himself with these Talmudic Chabad Hasidic Vipers to complete the circle of Satan's Ouroboros.
Their Law is in place and as written as per Jesus, Matthew 24. The Prophecy of Christ the LORD GOD ALMIGHTY of His REVELATION is upon mankind. Yet man slumbers, reeling in drunkeness with the Whores cup of indignation against GOD the Creator. The world and its inhabitants deserve the WRATH to Come, for man had 6,000 years to come to the Creator, and 2,000 years to REPENT in the Christ Messiah, the Image of the invisible GOD, Jesus the Christ the Creator. Mankind preferred the preoccupation of his flesh which is corrupted. Without Jesus the Gate, man has perished.
Here is the man who leads your government in D.C. Here is Dumpity Trump's senior advisor, Kushner's ribeye, Shemtov of the Shem sham of Ha Shems Shame, the shame of Lucifer. The Satanic Viper of the anti-Christ Noahide Laws of Mystery Babylon the Mother Harlot of the earth of Spiritual Sodom and Egypt, jerusalem, of where our LORD was crucified.
Here: http://forward.com/news/358968/ivanka-trump-and-jared-kushner-pick-55m-home-and-chabad-synagogue-in-washin/
One Big Happy Satanic Anti-Christ family…
Addled-Son and Shems'Tov
Addle is a Middle English word coming from the Old English adela, meaning "liquid filth." It's related to the German adel, meaning "mire or puddle." In the thirteenth century, addle was used to refer to rotten eggs. Now it's used to describe a confused mind. When someone's mind becomes addled — whether it's from age or love or illness — it's like the brain is rotten.
http://www.foxnews.com/politics/2016/10/31/adelson-pours-25-million-into-white-house-race-more-may-be-coming.html
http://www.usatoday.com/story/news/politics/onpolitics/2016/11/15/sheldon-adelson-steve-wynn-join-donald-trumps-inauguration-team/93933716/
http://www.collive.com/show_news.rtx?id=37511
There is no end to Satan's rabbi't hole……..
And Dumpity is gonna be Blessed……..by ribeyes and whoremongerers, proselytes and freemasons…Do Ah Heah  all em evangelical Brutha's aeean Sistah's Give me aeean Ammean!
https://www.breakingisraelnews.com/81787/popular-la-rabbi-bless-trumps-inauguration/
and…..
"Ideological concept of Lubavitch clan (the concept of Judeo-Nazism) is presented in the book "Tanya", written by founder of Chabad-Lubavitch – Rabbi Schneur Zalman Schneerson.  According to Chabad canon, developed by Shneur Zalman, God created the world solely for the Jews ; Jews possess Divine soul, the goyim (gentiles) have the soul of a lowest order – animal soul; Jews are the only ones to whom we can apply the concept of Man. The other nations of the world are compared to vomiting and filth. [The] Book called Tanya is the main subject of study in Chabad schools on a par with the Torah and Talmud."
– Rabbi Eduard Hodos from 'Jewish Hurricane'
Pay close heed, for this is Chabad of the "Valley of the Shadow of Death" , whom the KINGS of the EARTH Pay for her whoredoms………………………………….Ezekiel 23
http://www.chabad.org/therebbe/article_cdo/aid/1568021/jewish/Rabbi-to-the-World.htm
Rabbi Yitshak Ginsburgh in 1996 and for whom the distinctions between Gentiles and Jews led to some very revealing proclamations:
"Gentile souls are of a completely different and inferior order. They are totally evil, with no redeeming qualities whatsoever." …If every simple cell in a Jewish body entails divinity, is a part of God, then every strand of DNA is a part of God. Therefore, something is special about Jewish DNA. […] If a Jew needs a liver, can you take the liver of an innocent non-Jew passing by to save him? The Torah would probably permit that. Jewish life has an infinite value," he explained. "There is something infinitely more holy and unique about Jewish life than non-Jewish life. [3]
https://en.wikipedia.org/wiki/Levi_Shemtov
I advise All Men of ALL Nations, All cults and sects and so called "Religions" to REPENT in the Name of Jesus Christ, Be Baptized in Christ Jesus Mighty Name for the Remission of SIN (Anti-GOD) and Pray the Lord, send His Holy Comforter upon you now and I Pray that you hear.
To no end will that Dragon and his jewish minions and their proselytes go to emulate and counterfeit their coming wannabe king, Moshiach ben David, that Man of Sin the Son of Perdition of the jews fables………
https://www.breakingisraelnews.com/81808/new-star-appear-night-sky-heralding-balaams-prophecy-messiah/
As for the rest of Mankind, you are warned and forewarned, this flesh temporary as it is, is as good as it gets for your wretched souls.
To the Liars in the House of GOD, yours is eternal Damnation, where you are to be cast out into outer darkness where there will be a gnashing and gnawing of teeth, for your LIES are REVEALED Forever!